Novigrad
Novigrad is a town that radiates an ancient and artistic spirit and is perfect for young people and couples in love. Today a developed tourist centre, it was settled already in ancient times, to which numerous localities and monuments are witness. Head for Novigrad today and take a walk through the historical town centre, enjoy Istrian specialties and explore its rich history and cultural heritage.
Why visit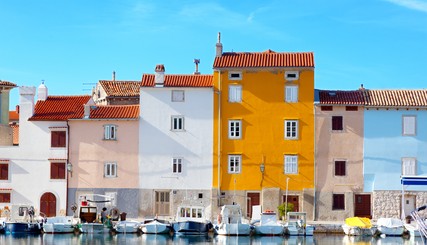 Take a peek inside the Lapidarium museum and study its collection of Antique period monuments
Wander through the patrician palace Rigo
Discover the Novigrad crypt
Visit the parish church of St Pelagius and St Maximus
Take a look inside the Gallerion Museum of the Austro-Hungarian Navy
Learn about history at the Feast of St Pelagius
Become part of the Evening of Street Magicians
Novigrad is a port and town located on the west coast of Istria, about 16 km from Umag and 17 km from Poreč, on a limestone peninsula at the mouth of the Mirna River. Its favourable geographical position allowed Novigrad to develop into an attractive tourist destination all year round. With its rows of houses with beautiful facades, cultivated gardens and parks overflowing with colourful flowers, Novigrad captures the hearts of its visitors almost immediately. If you step on to the boardwalk of the Mandrač town port and try to count just how many boats there are in the neat rows, you will soon realise that fishing still represents an important branch of the economy of this region. At the same place, the local fishermen will tell you why, once upon a time, this port used to be the centre of events for the entire local population. The balmy Mediterranean climate that is typical of all of Istria allowed Novigrad to develop into an attractive tourist destination all year round, and represents the reason that many tourists love to return over and over again and participate in the creation of the town's tourist offer. Novigrad offers countless possibilities for a relaxing holiday, such as scenic walks and tasting delicacies in one of the town's many restaurants. Take a walk on the boardwalk, enjoy Istrian specialties and, to round off your journey, take a walk through the historic town core to learn yet another story from Istria's rich history and cultural heritage.
Loading map, please stand by!
Ouch. There are no results for the selected category, period and/or location. Try another combination!