Omišalj
Omišalj is a town of commerce, seafaring and fishing. It is a historic town that promotes culture, art and the preservation of the Croatian language and Glagolitic alphabet. The development of Omišalj can be traced back to the Liburnian and Roman era, continuing with the era of the Frankopan dukes of Krk to present day. Its prehistoric foundations, the winding stone alleyways of its historic town core and its closely packed houses reveal the priceless value of its heritage at every step. Visit Omišalj – your haven of peace and nostalgia! Owing to its environment and climate, Omišalj has been attracting great numbers of visitors for many years now.
Why visit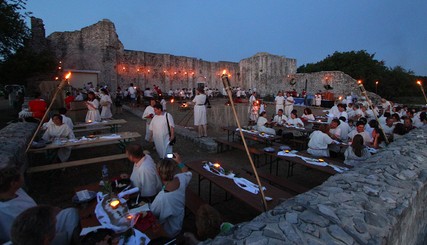 Take a peek inside the Lapidarium, which features a collection of stone monuments
View the Glagolitic inscription from 1405 on the front of the Church of the Assumption of the Blessed Virgin Mary
Visit the early Christian basilica from the 5th century
Discover Omišalj's heritage at the local Lapidarium
Participate in Stomorina, a traditional dance of the youth that is held in August
Stand next to Fulfinum, an ancient town and early Christian complex located in Sepen Bay
Take a stroll through the Dubec forest park
Omišalj is one of the oldest towns on the island of Krk and a very important centre of tourism. It is located in the northwest part of the island of Krk, just 20 km away from the city of Krk. As it is situated on top of a 85-metre-tall and steep cliff, it is considered the only town on the island that can be fully seen from both land and sea throughout the bay. It is located just 27 km away from Rijeka – that is, only half an hour's drive away.
Loading map, please stand by!
Ouch. There are no results for the selected category, period and/or location. Try another combination!