Dvigrad
Dvigrad is a unique example of a once-important mediaeval town that has remained completely preserved. This town was settled already in prehistoric times due to its geographical position, sources of potable water and fertile land. Archaeological findings of a variety of everyday objects confirm the influence of ancient cultures on the development of the economy of this town protected by double walls.
Why visit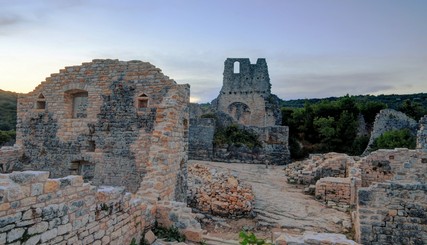 Take a look inside the Church of St Sophia
Visit the Church of St Agatha
Stand beside the former pulpit and admire its relief decorations
View the hand-painted cycle of frescoes by the anonymous artist ˝Šareni majstor˝ (˝The Colourful Master˝)
Take a walk to the Church of St Opat, located south of Dvigrad
Stand on the slopes next to the Church of St Mary of Lakuće
Dvigrad is a locality of ruins in Limska draga and can be reached by continuing on the road that leads to the village of Kanfanar. It is located 20 km from Rovinj, 39 km from Pula, 26 km from Vrsar and about 78 km from Rijeka. Below Dvigrad, traces of an ancient road that started in Pula, continued through Bale and led towards inland Istria. It was first mentioned in written sources in the 9th century, in connection with the jurisdiction of the Pula diocese in this region. The town is encircled by two defensive walls that are connected with three town gates, within which there are three towers that were built in the 14th century. Dvigrad is a day trip destination of great cultural and historical importance. Many tourists pass through here every day on their way to Kanfanar, only to stop and admire the simplicity of Dvigrad's monuments that have remained untouched by the passing of time. Every stone in these monuments tells many tales about the spirit of a bygone era – tales that are as interesting to adults as they are to children. This is a place where you, your family and your friends can all learn a great many things – just don't be worried about the dark legend of the cursed treasure buried somewhere deep inside these ruins. On these very same ruins, some will discover Istria, while others – or so legend has it – will discover themselves!
Loading map, please stand by!
Ouch. There are no results for the selected category, period and/or location. Try another combination!