Malinska
Malinska was once known as the centre of Dubašnica and the island's port for the export of wood. The entire region that Malinska is a part of is called Dubašnica, which is today considered one of the most important centres of tourism on the island. Malinska is famous for its many beaches and developed family tourism. Choose to spend your holidays in Malinska today, because it is simply perfect for you!
Why visit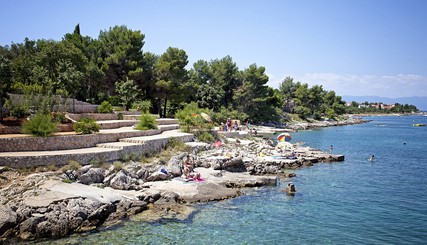 Take a peek inside the 19th-century Church of St Apollinaris in Bogovići
Become part of Malinska Nights – the days of St Apollinaris
Visit the archaeological complex in Cickina forest
Tour the church of St Mary Magdalene and the Franciscan monastery
Taste delicacies made from sardines in the neighbouring fishing village of Porat
Visit the church and gallery complex of St Nicholas
Go cycling at Dubašnica, the long-standing bike tour of the same name
Malinska is located on the northwest coast of the island of Krk and is the seat of the Malinska – Dubašnica municipality. It is located just 15 km away from Krk Bridge, 12 km away from both Rijeka Airport and the city of Krk and about 37 km away from Rijeka. Once a destination favoured by aristocrats from Vienna, Malinska is today a developed tourist centre that features a high-quality offer of luxury accommodation and a wide variety of interesting activities that attract large numbers of visitors. The town is also one of the most developed destinations on the island and is known for its hotel tourism, family tourism and food and wine tourism.
Loading map, please stand by!
Ouch. There are no results for the selected category, period and/or location. Try another combination!