Stari Grad
Its relaxed atmosphere, lavender flowerpots and blooming bougainvillea in centuries-old alleys, local taverns, hustle and bustle of the piazza, and claver of locals against a backdrop of magnificent renaissance palaces will captivate you if you crave nostalgic Mediterranean scenery. Here, and with good reason, even a renaissance painter Petar Hektorović found an idyllic microcosm inside a stunning villa to whose construction he dedicated his life. Before visiting it, have some coffee on the waterfront edged by palm trees, rest your eyes on the open sea, fisherman's cockboats, passers-by and... enjoy the moment.
WHY STARI GRAD?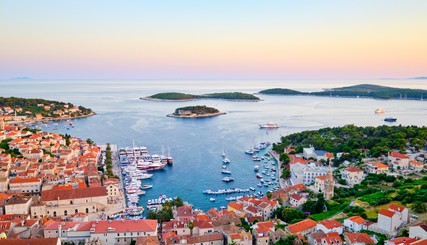 Slip in beautiful photogenic nooks that look as if they were made for insta-photos, such as the picturesque Škor square, Oslič beach, hipster bars in the heart of the city or hike to the Glavica belvedere
Find countless secluded beaches for Robinson swimming experience in nearby Žukova and Maslinica bays
Try sea specialties, intoxicating wild plants and olive oils, as well as inevitable wine at rustic taverns
Surrender yourself to the charms of Hektorović's muse, the 16th century castle Tvrdalj, with its playful gardens, towers, a fishpond and a dovecot
Discover purple lavender fields, vineyards, as well as UNESCO's locality Stari Grad Plain which can best be reached by bicycle or motor scooter
Insider's tip: In the centre of Stari Grad, Valamar has opened the Craft Beer&Grill pub with a selection of steaks and a little restaurant Grano Duro Pizza & Pasta offering an al fresco light meal.
Loading map, please stand by!
Ouch. There are no results for the selected category, period and/or location. Try another combination!