Grünwaldsee
This spellbinding mountain lake is located at 1,938 metres above sea level and can be reached by the Grünwaldkopf funicular, which is operational only during the summer months. In addition to passengers, the funicular cabin can fit bicycles, prams and even dogs, which is what makes Grünwaldsee such a popular family resort. It is surrounded by winding hiking trails and verdant pastures, which are ideal for walks and mountain biking in warm weather.
WHY GRÜNWALDSEE?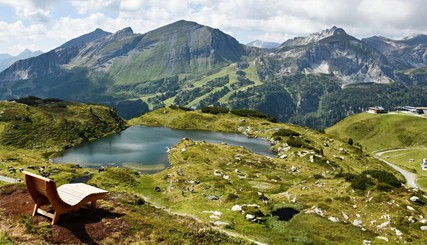 Surprise your family with a memorable lakeside picnic (bring also a pet whose ride on the funicular is free of charge!)
Recharge in the fresh air and enjoy the healing view of green pastures.
Hedonists can cruise the lake free of charge in adorable pedal boats and regular smaller boats, while the adventurous types can take a dip and feel the soothing effects of hydrotherapy.
Unwind on the sunlit terrace of the adjacent restaurant and treat yourself to Alpine specialities (including the delectable Kaiserschmarrn).
Adrenaline lovers can go on a heart-racing downhill ride on special Mountain Skyver bikes that are available for rent in the valley.
Insider's tip: The excursion to Grünwaldsee also provides the option of walking on the nearby trails and then swimming in the adjacent Lake Krummschnabelsee (1,990 m), whose temperature can rise up to a pleasant 24°C.
Loading map, please stand by!
Ouch. There are no results for the selected category, period and/or location. Try another combination!