Hallstatt
If someone asked you to imagine an idyllic Alpine lake town, we bet that you would describe Hallstatt. This almost uncannily beautiful town which offers plenty of wonders is nestled against a cliff in the shore of the crystal-clear Lake Hallstatt and is a UNESCO World Heritage Site along with Mount Dachstein. As a carefully kept "salty secret" of the Habsburgs, the town has been literally frozen in time, although you will be led to its secret treasure by a – funicular!
WHY HALLSTATT?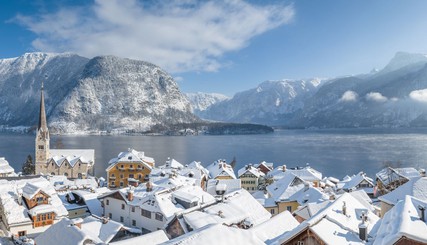 Discover the picturesque corners of the town centre with traditional houses with flower beds and a Gothic bell tower whose visage will transport you into the fairy tale world of Hans Christian Andersen.
Take a walk on the majestic Hallstatt Skywalk, 360 metres above the lake, with views that will leave you breathless.
Take the funicular up to the world's oldest salt mine, which has been here for 7,000 years, and enjoy the ride on the choo-choo train or going down the slides.
Climb in the funicular up to the Five Fingers lookout point and the two ice caves – Mammoth Cave and Ice Cave.
If you find yourself in Hallstatt during the Feast of Corpus Christi, enjoy the view of myriad boats from the shore, as the entire town sails out on the lake to take part in a traditional procession that has been held since 1623.
Save one unusual experience for last: visit the ossuary with 1,600 painted skulls of the town's former residents and learn why the locals practise this unusual art form.
Insider's tip: Take a stroll through town to the museum at 56 Seestraße and take a very close look at the Hallstatt culture which dates back to the Early Iron Age. There you will find out why a culture from such a long era is named after such a small town!
Loading map, please stand by!
Ouch. There are no results for the selected category, period and/or location. Try another combination!