Bale
Bale is a town that boasts a magnificent natural environment, numerous attractions, impressive architecture and friendly people. It is said that, in Bale, all the doors are open all the time – so come and meet the locals, who are bound to make you feel right at home at every moment. Whether you're looking for an active holiday or to spend a pleasant afternoon somewhere, Bale has everything you need!
Why visit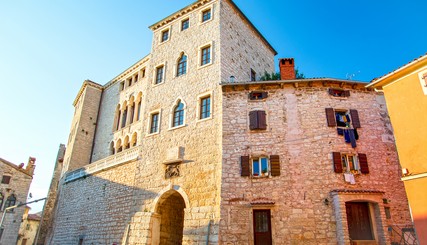 Walk through the narrow stone alleyways of the old town core of Bale
Become part of the Bale Nights, a folk celebration that is held in August
Take a look inside the Ulika Multimedia Centre and discover dinosaur remains
Visit the late 14th century palace/fort Soardo-Bembo
Admire the Renaissance relief of the Virgin Mary in the Church of St Julian
Visit the bell tower of the parish church of St Pelagius and St Maximus from 1883
Improve your knowledge of history at the archaeological site of San Polo-Colone-Paravia
Bale developed on the site of a prehistoric fort in southwest Istria, about 13 km from Rovinj and 20 km from Pula. The town has preserved its mediaeval urban plan and features remains of fortified towers, walls and gates. Its rich ambient architecture and specific idiolect of the older population make it a particularly attractive destination. If you happen to be passing through this region and stop by an agrotourism farm, you will soon lean why this small Istrian town is favoured by more and more tourists every year. Its Mediterranean climate allowed for the development of hunting and stationary tourism. Bale is a peaceful haven that is perfect for family holidays. In the warm summer evenings, the sounds of jazz music fill the streets, while gourmets are provided with the opportunity to taste Istrian delicacies on the town square. For those who enjoy a romantic atmosphere, we recommend waiting for the sunset in winter with a cup of tea or a glass of wine. Lovers of active holidays will love the idea of participate in riding, fishing or sailing school, or playing beach volleyball on the Kolone groomed beach. Finally, you can also enjoy the one-of-a-kind experience of staying at a ˝stancija˝ - traditionally built estates that are surrounded by magnificent landscapes. Choose Bale to find a peaceful green haven just for yourself!
Loading map, please stand by!
Ouch. There are no results for the selected category, period and/or location. Try another combination!