Savičenta
The first records on this town date back to the 9th century and a document called Otonall, where it is mentioned as the ownership of the Poreč bishop. Since then, Savičenta has developed into a true Mediterranean centre of culture and art. Regardless of whether you're looking for an active holiday or the relaxing atmosphere of your own home, Savičenta is the right choice for you!
Why visit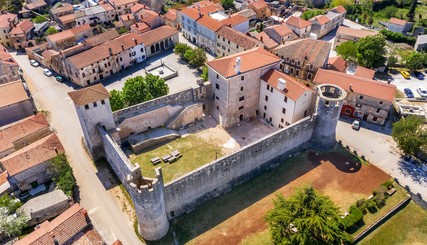 Walk by the Venetian fort Morosini-Grimani
Visit Placa, the town square
Take a peek inside the loggia with an open porch and arcades
Look inside the Church of the Holy Annunciation
Stand beside the Church of St Vincent
Look at the frescoes inside the Church of St Catherine
Take photos beside the town ˝šterna˝ (well) from the early 19th century
Savičenta is a town located in central Istria, north of Vodnjan and on the Vodnjan-Žminj road that leads towards Pazin. It is considered a typical region within the so-called Red Istria and is located 26 km from Pula and 78 km from Rijeka. Its rich history and tangible and intangible cultural heritage contributed to the development of this little town in Istria. The Mediterranean climate of the Istrian peninsula has bequeathed this region with mild winters and warm summers, which attracts great numbers of tourists. Its exceptional tourist offer is appealing to many visitors, and particularly to families with children. Savičenta does not boast only breathtaking natural beauties, but also a wide variety of cultural events, wine and food tourism and an exceptional offer of activities in nature. Thus, if you happen to find yourself in Istria, Savičenta is definitely the right choice for a pleasant and eventful holiday. After surprising your taste buds with first-class wine and Istrian specialties, enjoy the programmes of the Istraetnojazz festival and the Festival of Dance and Non-Verbal Theatre that are held near Morosini-Grimani fort. This fort is known as a symbol of Savičenta throughout Istria and is one of the most important and valuable Venetian edifices from this period. Come to Savičenta and experience Istria like you have never seen it before!
Loading map, please stand by!
Ouch. There are no results for the selected category, period and/or location. Try another combination!