Krk
Krk is a city with many natural beauties and a rich cultural heritage, and its history reaches more than 3000 years into the past. Krk's tourist offer makes the city an attractive and easily accessible destination for lovers of active and educational holidays. Looking for a quiet weekend for two? Or perhaps for some quality time on the beach with your pet, or for interesting activities for your children? The city of Krk is the answer to all your questions!
Why visit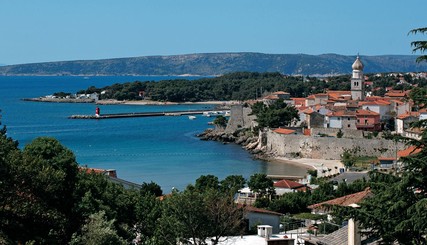 Take a peek inside the spacious family home of the Kornić family
Take a walk beside the walls of Frankopan Castle
Study the remains of Roman pillars on Kamplin Square
Discover the secrets of the Benedictine Monastery and the Church of St Mary of the Angels
Discover 2000 years of history in the Volsonis lapidarium
Soak up some sun on Porporela beach
The city of Krk, Croatia's most economically developed island city, is located on the southwest part of the Island of Krk and also serves as its administrative centre. It is located in a large bay next to Puntarska Draga, the most famous bay on the island. It is located just 11 km away from Malinska, 13 km away from Punat and about 40 km away from Rijeka. Krk is a city with an exceptionally developed offer of exciting activities for all ages, and is considered one of the most important towns on the island due to its valuable historical and cultural heritage. Romans, Venetians, Napoleon's governors and Frankopan dukes all once walked the city, while today numerous lovers of history, nature and culture stroll through its streets.
Loading map, please stand by!
Ouch. There are no results for the selected category, period and/or location. Try another combination!