Dobrinj
Dobrinj is considered one of the mediaeval forts on the island that, in the past, represented a cradle of literacy. The beginnings of this town date back to the 12th century, when it was referred to as a Glagolitic centre, to which a variety of documents and Glagolitic inscriptions are witness. Choose Dobrinj and find out why it has been favoured by many visitors for years!
Why visit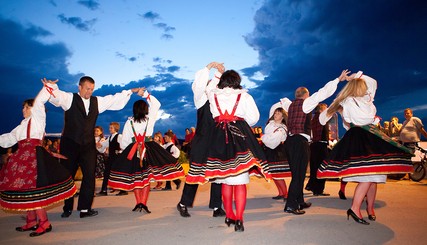 Find out what the ˝sopele˝ musical instrument is. Visit the Church of St Stephen from the 12th century. Sample home-made olive oil
Become part of the summer fishermen's party in the village of Šilo
Discover ˝kamenice˝, a mediaeval system of hollow stone measures
Learn the Glagolitic alphabet from the inscription at the entrance to the town
Try ˝šurlice˝ pasta with goulash, young lamb meat or ˝presnac˝ sheep cheese cake
Dobrinj is located on the northeast side of the island of Krk, on top of a 200-metre-high hill located above Soline Bay. It is located about 22 km away from Krk Bridge, 6 km away from the city of Krk, and just over 44 km away from the city of Rijeka. The town is famous for its narrow stone alleyways, colourful folk costumes, variety of folk events and traditional home-made cuisine. Due to its Glagolitic importance in the Middle Ages, it is one of the favourite destinations for history buffs from all over the world. Dobrinj is also an attractive destination for active and family holidays.
Loading map, please stand by!
Ouch. There are no results for the selected category, period and/or location. Try another combination!