Stara Baška
Sandy, rocky and craggy beaches stretch along the entire length of the coastal village of Stara Baška. Stara Baška began to develop in the 14th century as a settlement for shepherds seeking refuge from Ottoman invasions. Today, it is part of the municipality of Punat, from where the one and only road that leads to Stara Baška begins. Come to Stara Baška because it is a destination adapted to all of your needs!
Why visit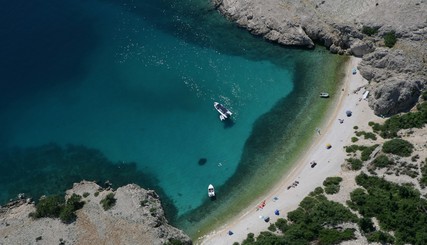 Lean a bit about history at the Chapel of St Jerome
Stop by at the Church of All Saints
Try scrambled eggs with asparagus on olive oil
Find out what a traditional shepherd's drywall is
Soak up some sun at Oprna Beach
View the remains of a military complex at the Mir ("Peace") locality above Surbova Bay
Walk the macadam pathway that leads from Stara Baška to Batomalj near Baška
Stara Baška is a village located on the far southwest of the island of Krk. It is located just 8 km from Punat, 45 km away from Krk Bridge and 70 km from Rijeka. Stara Baška is located in the magnificent bay of the same name and is protected from the gusts of the cold bora wind in winter by hills on one side, and the tiny peninsula of Klobučac on the other. At the end of the town there is a port that, in addition to the vessels of the locals, provides safety to many sailors and tourist boats during the summer. It is a village with a long fishing tradition that today provides unique relaxation and recreation activities in pristine nature to its visitors all year round. Lovers of lazing about in the sunshine are bound to find the perfect spot on one of the pebble, rocky or craggy beaches by the clear blue sea below the steep and tall cliffs. Gourmets can savour home-grown lamb, sheep cheese or freshly caught and prepared seabass and round them all off with a few drops of home-made wine. Choose Stara Baška because the town's only shop and the tavern located next to the Church of All Saints.
Loading map, please stand by!
Ouch. There are no results for the selected category, period and/or location. Try another combination!