Vrsar
Vrsar is a town with a rich naval heritage and magnificent natural environment. The beauty of Vrsar has been celebrated by many - though, among the noteworthy figures that have fallen in love with the town, the people of Istria most prefer highlighting the famous adventurer, gourmet, writer and playboy Casanova. Dare to step back into history or enjoy some quality relaxation – Vrsar is the perfect place to unwind all year round.
Why visit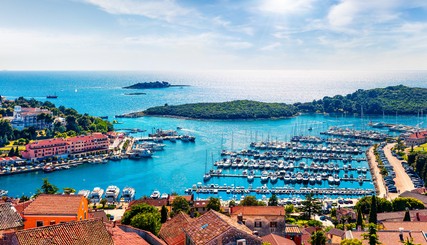 Visit the Church of St Martin, the parish church
Take a peek inside the Church of St Foška, one of the patron saints of Vrsar
Visit the Church of St Mary of the Sea. Tour Dušan Džamonja's sculpture park in Valkanela
Go to Aeropark Vrsar and treat yourself to an airplane flight
Enrol in the Summer School of Sculpture in Montraker quarry
Immerse yourself in romance at the Casanovafest festival
Vrsar owes its former name of Ursaria to the sailors of old who, while sailing along the coast of west Istria, encountered sources of potable water between Funtana and Vrsar. Vrsar is a town with a rich naval heritage and magnificent natural environment. This town and port is located on the west coast of Istria, just 9 km away from Poreč and Lim Channel and 99 km away from Rijeka. Owing to its production of salt, as well as to its distinctive grey stone, grapevines, olives and seafood delicacies, Vrsar has been marked on maps for a very long time. It is an attractive destination for all lovers of art, gourmets and wine enthusiasts. Today, its economy is mostly oriented towards the development of tourism, which is why it comes as no surprise that an increasing number of visitors decide on this little village by the sea as the destination for their dream holiday. For those that desire an active holiday, the opportunity of going on a parachute jump or learning acrobatic flying is offered during spring and summer. In Vrsar, gourmands will have a field day sampling all the many flavours of Istrian specialties while relaxing in renowned restaurants. In summer, many love to simply kick back and relax on a sun-kissed beach, while autumn and winter are perfect for strolling through the narrow and winding streets of the core of the old town and discovering the history of this region. Vrsar is the perfect place to relax and unwind at any time of the year!
Loading map, please stand by!
Ouch. There are no results for the selected category, period and/or location. Try another combination!