Mljet
The island of Mljet is the largest island of the Dubrovnik archipelago and one of the southernmost major islands in Croatia. It is known for its many legends, deep bays, the lakes Veliko jezero (Big Lake) and Malo jezero (Small Lake), its lush and diverse Mediterranean flora and rich cultural heritage. In the past, the island was inhabited by the Illyrians, the Greeks and the Romans. Today, the island is renowned for its exquisite goat cheese, its national park, the legend of Odysseus and his nymph Calypso and its southern varieties of white and red wine.
Why visit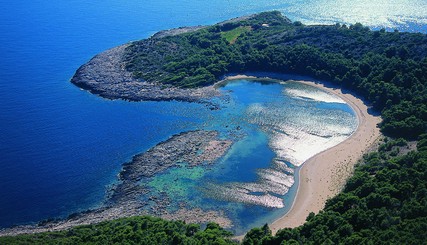 Take a peek inside the Roman palace in Polače port
Follow the trail of Jacques Cousteau and go diving in the caves of the island of Mljet
Go mountaineering on the 43-kilometre-long hiking trail around Mljet
Dare to go mountain biking or for a panorama ride
Visit Mljet National Park
Find out how the Mljet ˝košic˝, a traditional type of basket, is made
Discover the secrets of the geomorphological phenomenon of Jama (Odysseus's cave)
Mljet is one of the largest islands in south Dalmatia and is also the southernmost and easternmost of Croatia's major islands. It is part of the Dubrovnik island group and is located at a favourable geographical position not far from Dubrovnik, Korčula, Pelješac and the Elaphiti Islands.
Loading map, please stand by!
Ouch. There are no results for the selected category, period and/or location. Try another combination!