Brač Island
During the season, you can set out on a one-day cruise from Makarska Riviera to Bol on Brač Island. Brač is the largest island in Dalmatia and has a renowned sand beach Zlatni Rat that you've probably already seen in many photographs of Croatia. Now is the right time to experience all its beauties in person and discover what form it will take on today, under the influence of wind, waves and ocean currents. Who knows, perhaps you'll be the one to find a lucky pebble in the shape of snail shells, that will, as the legend goes, make the finder a lucky person!
WHY BRAČ?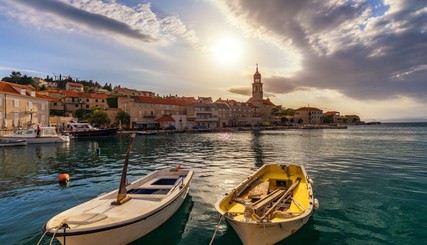 Take a swim in Zlatni Rat, which is included in many top charts of all the beaches in the world
Enjoy all types of surfing with the help of mistral gusts
If you want to see a unique architectural phenomenon – a house in a house, head on to the centre of Bol
Tour the remains of an ancient Roman villa hidden in the pine wood near Zlatni Rat
Visit a famous stonemasonry school in Brač and admire the stone handicrafts in Pučišća
Hike up to the Dragon Cave, a first-class monument of Glagolitic priests from the 15th century
The stonemasonry tradition on Brač has been nurtured for centuries and it is precisely here where the stonemasonry school was formed and from the workshops of which many stonemasonry masters originated. Tours in the school's workshops with the company of masters are organised and this is where visitors can learn about stone works such as wonderful sculptures, posts, rosettes, pitchers, as well as others useful and decorative items.
Loading map, please stand by!
Ouch. There are no results for the selected category, period and/or location. Try another combination!