Njivice
The first hotels in Njivice were built in 1930, which marks the beginning of tourism in this town. Today, Njivice has become a tourist centre that is favoured by many visitors. It is known as a village with a tradition in fishing, olive cultivation and cattle farming. Experience your own adventure in Njivice today!
Why visit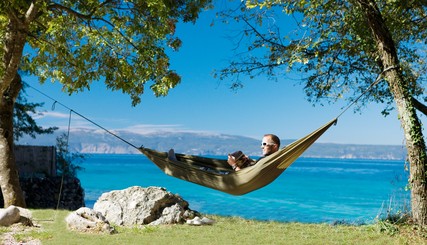 Sip your morning coffee on Ribarska obala ("Fishermen's Quay")
Take a peek inside Biserujka Cave
Attend a riding course at Horseback Riding Club Njivice
Become part of the traditional fishermen's parties that are held in summer
Visit nearby villages in search of home-made olive oil
Learn history from the Pre-Romanesque pluteus
Stop by at the Church of the Nativity of the Blessed Virgin Mary
This coastal town is located in the northern part of the island of Krk in the municipality of Omišalj, and it is part of the Priobalje micro-region, one of the five micro-regions that the Primorje – Gorski Kotar county is divided into. It is located just 6 km away from the town of Omišalj, 10 km from Krk Bridge and just under 33 km away from Rijeka. The town of Njivice was first mentioned in written sources in 1474, in the deed of gift of duke Ivan Frankopan the Seventh. Since then, it has been celebrated as a town with developed accommodation capacities and magnificent landscapes. Its easy-to-access beaches, deep blue sea, abundance of shade and variety of events and attractions are what attracts great numbers of visitors to the area of Njivice.
Loading map, please stand by!
Ouch. There are no results for the selected category, period and/or location. Try another combination!