Motovun
Motovun is a popular tourist destination that today attracts hedonists from all over the world. One legend says that the mythical Jason and his Argonauts once sailed below Motovun, while another tells that this area was first settled around 3500 BC – it is up to you to discover your own Motovun tale in this region.
Why visit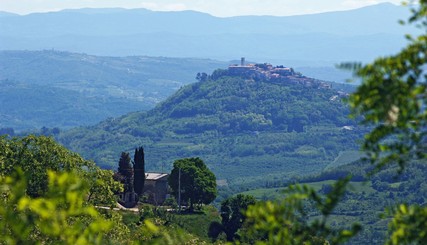 Visit the international Motovun Film Festival
Take a look inside the 13th-century bell tower
Admire the frescoes in the Church of the Blessed Virgin Mary Dei Servi
Sample the quality of Istrian white truffles at Truffle Days (Dani tartufa)
Listen to the sound of G. Calido's organ in the parish church of St Stephen from the 17th century
Climb the famous stairs to Motovun
Enjoy the view of the Mirna River valley from the town walls
Motovun is situated 21 km southeast from Buje, above the south bank of the midstream of the Mirna River. It is located approximately 70 km from both Rijeka and Pula and is among the best preserved urban complexes from the Middle Ages in all of Croatia. Motovun is considered the centre of the northern part of Istria and is often referred to as the most famous and beautiful mediaeval town in Istria. Its natural beauties and attractive tourist offer draw a lot of attention, and it represents the perfect destination for holidays with family and friends. The town is dominated by Gothic and Romanesque architecture, which has remained preserved in its original form up to today. As the spirit of the Mediterranean is also present in this region of Istria, mild winters and warm summers a part of everyday life. In summer, catch up with your reading list while relaxing with a view of the vineyards, or finally dare to go on a hot-air balloon ride. In autumn, we recommend taking a walk through Motovun Forest, where you can often encounter delicious truffles. Adventurous spirits can go on a cycling adventure with their friends, or perhaps test their skills at the competition in ox horn throwing – the traditional ˝Igre na rog˝ (˝Horn Games˝). Lovers of mythology and legends will have the opportunity to learn the secrets that are behind the character of Veli Jože, the hero of Vladimir Nazor's story. Choose Motovun for its hospitality, natural beauties and tradition.
Loading map, please stand by!
Ouch. There are no results for the selected category, period and/or location. Try another combination!