Grožnjan
Once an important Venetian fortress and a regional centre, Grožnjan is today a hub for artists and one of the most appealing destinations for creative tourism. With the construction of the railroad in the 20th century, the town's population, which had previously been mostly engaged in agriculture, began to focus on accelerating the development of trade and tourism. Apart from the throngs of artists that besiege the town every year, gourmets and wine connoisseurs also visit frequently to enjoy the restaurants and agrotourism in the area.
Why visit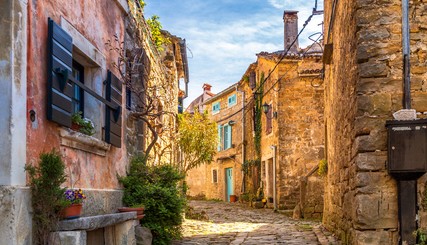 Visit the chapel of St Cosmas and Damian with a porch of the ˝lopica˝ type, dating back to 1554
Take a peek inside Spinotti Palace and enjoy its Baroque architecture
Visit the neighbouring health resort Istarske Toplice
Study a preserved 16th-century Venetian loggia
Become part of the Ex Tempore art festival
Take a tea break in the Fonticus city gallery
Grožnjan is located in the central part of Istria, above the valley of the river Mirna, about 20 kilometres away from Novigrad and 17 kilometres away from Motovun. It is part of the region of Gornja Bujština, which was settled very early in the Roman period, owing to which we are witness to the endurance of Roman and Venetian architecture up to this very day. Just like in the other towns and villages in inland Istria, where the continental and Mediterranean climate intertwine, Grožnjan also offers the perfect conditions for family holidays with children of all ages. This little town is also the centre of the International Cultural Centre of Croatian Music Youth and the Art Circle of Grožnjan and its surroundings. If you want to awaken your bohemian side, visit in summer to the annual exhibition of the Art Circle of Grožnjan or to kick back at the Jazz festival. The parish church of St Vitus, Modestus and Crescentius, which was built in 1600 and features Baroque-period choir stalls, an oil on canvas from the 17th century depicting St Peter of Alcantara and marble altars from the Late Baroque, is also a definite must-see. In spring, the outskirts of the town are perfect for all lovers of active holidays as they are packed with walking and cycling trails. Choose Grožnjan both for its people and its culture!
Loading map, please stand by!
Ouch. There are no results for the selected category, period and/or location. Try another combination!