The City of Rab
The town of Rab is the liveliest and the most visited place on the island and a true centre of historic architecture. Between Trg sv. Kristofora (St Christopher Square) and Loža (the City Lodge) stretches the Srednja ulica (Middle street), the city's main street, which during the season turns into an exhibition area with a multitude of boutiques, galleries, jewellery stores, and patisseries.
WHY THE CITY OF RAB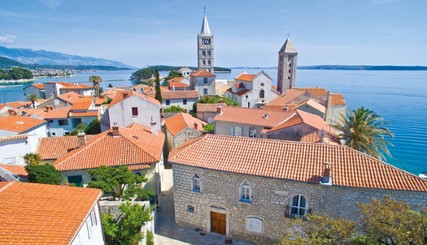 While walking along the Gornja ulica (Upper street), you get to see the churches, bell towers, and monasteries
Take a break in the green surroundings of the beautiful Komrčar park
Listen to the classical music concerts in the unique ambient of the Church of the Holy Cross
At Rabska fjera, meet craftsmen and knights from the Middle Ages
Watch a movie under the stars in the Rab open-air cinema
Try the Rab cake, a royal dessert, the recipe of which dates back to the 12th century
Rab is rich with astonishingly beautiful sacral architecture, such as the church of St Mary from the 12th century and the nearby 26 m high bell tower, which is considered to be the most beautiful Romanesque bell tower on the Adriatic coast. A walk through the history lane is not the only thing Rab has to offer - people of Rab will show you how to enjoy in the present moment as well. In nicely decorated bars in the old town, you will find everything, from delicious seafood specialties such as buzara and brodet to refreshing appetizers. Be a part of the original summer events such as Kantuni or Rabska fjera and feel the magical atmosphere of the Mediterranean.
Loading map, please stand by!
Ouch. There are no results for the selected category, period and/or location. Try another combination!