Vrbnik
Vrbnik is one of the oldest towns of the island of Krk and is, owing to its rich history, often referred to as the cradle of Croatian literacy. The most important branch of Vrbnik's economy is agriculture – or, to be more precise, viticulture. However, this little town on the island of Krk is most famous for the friendliness of its people, whose hospitality and culinary skills you are bound to remember for the rest of your life. So, head towards Vrbnik today and discover all its little secrets!
Why visit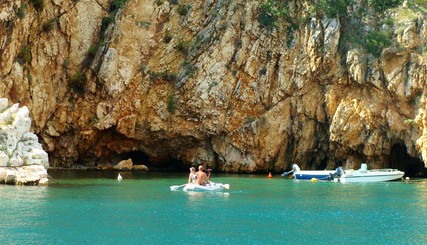 Visit the plaque and monument erected in honour of Blaž Baromić
View Koehler's atlas from 1718 in the Vrbnik Town Museum
Tour the church of St John the Baptist from 1323
Visit Vrbnik's ˝placa˝ (square) to chat with the locals
Discover the secret that lies behind the importance of the Chapel of St Anthony of Padua
View Blaž Baromić's printing press, the first one in Croatia
Vrbnik is located 10 km away from the city of Krk, 16 km away from Malinska, 48 km away from Rijeka and just 25 km away from Rijeka Airport. It is a typical coastal town with closely packed houses and narrow stone-paved alleyways that have been worn out by countless feet and the many animals that once passed here every day. Vrbnik was first mentioned the Deed of Gift of Dragoslav, a Glagolitic document from 1100. It was once a popular resort among the Iapydes and Liburnians and, later, the Greeks and Romans. Since then, Vrbnik has remained a holiday destination that attracts great numbers of visitors all year round.
Loading map, please stand by!
Ouch. There are no results for the selected category, period and/or location. Try another combination!