Ston
Once the centre of the trade empire of the Republic of Ragusa, Ston is today the perfect holiday destination for families. The 980-metre-long walls and fortifications that surround it make Ston the town with the longest walls in Europe. Due to its historical, economic and defensive importance, Ston was built in two parts during the era of the Republic of Ragusa, which is why it is today divided into Mali Ston and Veliki Ston. Come, relax and experience your own Dalmatian adventure!
Why visit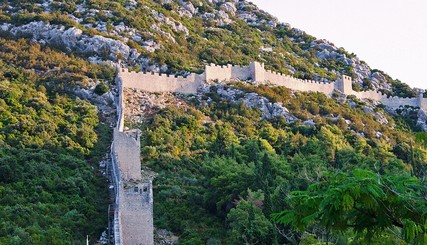 Visit the islet Otok Života
Take a walk to the olive groves of Prapratno Bay near Ston
Take a peek inside the pre-Romanesque church of St Michael on the hill of the same name
Admire the deep blue see near the invincible walls of Ston
Admire the frescoes on the walls of the Church of Our Lady of Lužine
Cycle or walk down Napoleon Road
Stand beside Veliki Kaštio, a fort from 1357
As this Mediterranean town is located on the peninsula of Pelješac, it is considered part of the Dubrovnik – Neretva county. At the bottom of Ston Channel, about 54 from Dubrovnik and 58 km from Ploče, you can find one of the oldest natural salt pans in Europe, in which sea salt has been manufactured for centuries. The method of manufacturing salt has not changed with the passing of time, thus all visitors to this town have the opportunity to witness a fusion of the traditional way of living with modern business. Come to Ston because it offers you hospitality and a variety of services at every corner.
Loading map, please stand by!
Ouch. There are no results for the selected category, period and/or location. Try another combination!