Pula
The real history of the city of Pula begins during the Roman period, when the official name of the city was Colonia Pietas Iulia Pola. Today, Pula boasts an exceptionally developed tourist offer and economy. Want to go on a bike ride surrounded by magnificent landscapes? Or do you want to go sailing with your friends? The choice is yours. Discover culture and history – discover Pula!
Why visit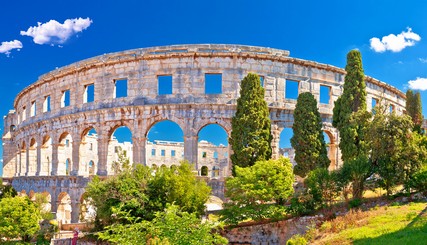 Visit centuries-old monuments – the Arena, the Golden Gate and the Temple of Augustus
Sunbathe on Pula's beaches and groomed bathing areas
Take a peek inside the 1st-century Roman Theatre
Find out how it is to live underground while walking through the hallways of the Zerostrasse tunnel
Visit the Visualia festival of light performances and effects
Become part of the festival mania at Outlook or Dimensions
Visit the traditional Pula Film Festival
Pula, a port city and the largest city on the Istrian peninsula, is located on the west coast of south Istria, just 12 km away from Vodnjan and 9 km away from Fažane. It developed on the hill of Kaštel more than 3000 years ago, at the location where the first fortified settlement of the Histrians was erected. It is located about 100 km away from Rijeka and about 9 km away from Medulin. Pula features a temperate climate with mild winters and warm summers and is the perfect holiday destination at any time of the year. Today, it is the centre of the administrative bodies of the city and of the Istria county and an exceptionally popular tourist destination with a rich offer of excursions, hospitality establishments and stationary tourism all year round. As the people of Pula are keen on cultivating cultural heritage and tradition, the urban plan of the city has not changed much since ancient Roman times. The old town, featuring the world-famous Arena, is a cultural monument in and of itself and reflects the circular layout that the Romans used to build roads in the shape of a spider web. Stroll through these awe-inspiring streets to immerse yourself in the spirit of this bygone era and create your own Istrian experience. Whether you happen to be looking for a weekend to yourself to unwind in one of the finest wellness centres, or perhaps to party on the beach with all of your friends – Pula is the perfect place for you.
Loading map, please stand by!
Ouch. There are no results for the selected category, period and/or location. Try another combination!