Biokovo mountain
Biokovo is unique for many reasons: it is the highest mountain near the coast and it has the 2nd highest peak in Croatia – St. Jure (1762 m), it has over 87 little churches and chapels as well as over 400 speleological objects, it has been populated since prehistoric times and from its peak one can see Italy that's 250 km away, due to its geomorphology and biological diversity, it was declared a nature park in 1981. Enough to pay it a visit, isn't it?
Why visit Biokovo?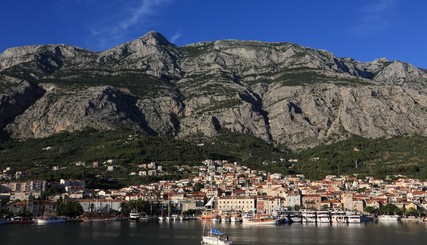 Because it is one of the few mounting where the peak may be reached on foot, on a bicycle or in a car
Explore 40 marked roads and mountain paths of different lengths and difficulties
Hike up to 5 viewpoints and 2 educational trails with information boards and interesting facts
Visit the botanical garden of Kotišina with approximately 300 naturally-occurring plant species
Enjoy the slopes of Biokovo which proved to be an ideal place to get away from summer crowds
In just half an hour of driving up the well-tended road though the Nature Park, you'll soar up to heights that guarantee fresh air and a memorable view of the town, the crystal-clear sea and the surrounding islands. Visiting Biokovo is a must if you are having vacation in Makarska, but it is also a mountain that commands respect. This is why you need to be well-prepared before hiking, prepare according to weather conditions, wear proper clothes and shoes, bring enough water and don't forget your phone.
Loading map, please stand by!
Ouch. There are no results for the selected category, period and/or location. Try another combination!