Hum
Often referred to as the smallest town in the world, Hum is a symbol of architecture and mediaeval culture, and the entire town can rightfully be considered a monument in and of itself. Legend says that Hum was made from the stone that was left over from the towns that giants had built in the valley of the Mirna River.
Why visit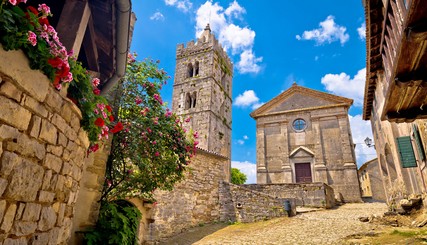 Visit the Church of the Assumption of the Blessed Virgin Mary
Peek through the windows of the loggia and discover the mayor's secrets
Climb to the top of the bell tower, if you dare Visit the Church of St Mary
Study the intriguing frescoes in the Chapel of St Jerome from the Romanesque period
Become part of the Day of the Town of Hum, when old traditions and customs are revived
Hum is a town in central Istria, situated on a hilltop above the source of the Mirna River. It is located in the vicinity of Buzet and Roč. The towns of Roč and Hum have been connected through a shared history and culture since ancient times, and are now also connected by the famous Glagolitic Alley. The economy of Hum is oriented towards tourism and agriculture, which will appeal to both lovers of relaxation in nature and to adventurous spirits. It is believed that Hum began developing in the late 11th century, but it's up to you to discover the true story of its origin. Although it counts a mere 30 inhabitants, this little town is much loved by Istrians and tourists alike. Its mild winters and summers are one of the reasons that Hum is one of the most desirable locations for taking a day trip in all of Croatia. This is a city that holds the customs of old in high regard, thus every year we have the opportunity to witness the town mayor being elected the old-fashioned way, with 11 local judges carving their votes into a wooden stick (raboš). Choose Hum for your day trip to Istria and explore its stone alleyways, squares and town walls. Leave no stone unturned and find the keys to the doors of the world!
Loading map, please stand by!
Ouch. There are no results for the selected category, period and/or location. Try another combination!