Lopar
No matter where you are staying on the Rab island, one thing is certain: the path will definitely take you to the north side of the island, to the Lopar village and its famous sand beaches. The most famous one is the Paradise Beach that is 1.5 km long and was listed among CNN's top 100 world beaches. Those who appreciate some privacy should walk a bit further until they reach the Sahara, Ciganka and Stolac beaches, which turn into nude beaches during the summer.
WHY VISIT LOPAR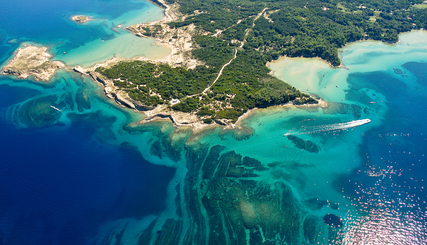 Take a swim on the most popular island beaches
Explore the archaeological sites of Punta Zidine and Podšilo
Explore the layered geological landscapes while taking a walk in the Geopark of Lopar
Enjoy the Sand Beach Sculpture Festival on the Paradise Beach that is held in June
Visit the church of St John the Baptist and church of the Blessed Virgin Mary
One of the lesser-known but remarkable attractions of the Lopar peninsula is the Geopark Lopar with a total of 50 marked geological points. In the summer, you can walk the trail accompanied by a professional guide while observing fossils, extraordinarily shaped rocks, and unusual geological profiles. Prepare to see some of the nature's miracles!
Loading map, please stand by!
Ouch. There are no results for the selected category, period and/or location. Try another combination!