The shrine of Vepric
If you're in Makarska and are looking for a place for spiritual renewal and prayer in the surrounding of captivating nature, visit the Shrine of Vepric, devoted to Our Lady of Lourdes, which may be found at the western entrance to Makarska. Those that already did this have only words of praise and describe Vepric as a quiet place, ideal for getting some rest and recharging your batteries. Visitors are specially drawn to the pine woods and the natural ambiance of the shrine, which is an exceptionally beautiful place for prayer and meditation.
WHY VEPRIC?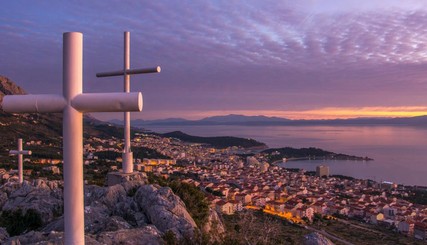 A peaceful place for prayer and meditation
In Vepric, many reverent acts are carried out: confession, rosary, way of cross, mass, evening candlelight procession, trinitarian processions, blessing of the sick, etc.
The Shrine has its steward that stays there permanently, there are daily recitations of the rosary and mass, and pilgrims have a chance to have their confession
Vepric was established by Bishop Juraj Carić back in 1908. The Bishop, after visiting Lourdes, received a vision and transformed the cave into a shrine by placing a statue of the Lady before it as well an altar. He blessed it on the feast day of Our Lady of Lourdes, on 11 February 1909.
Loading map, please stand by!
Ouch. There are no results for the selected category, period and/or location. Try another combination!