Baška
Baška is a town where nature comes out to play, a place where hills merge with the sea. Like the other towns on the island of Krk, the streets of Baška are also narrow, and the houses are packed closely together to create a typical Mediterranean atmosphere. Baška has long since attracted visitors both with its distinctive architecture and its many walking trails. Come to the island of Krk, visit Baška and experience the captivating spirit of summer nights on the Mediterranean!
Why visit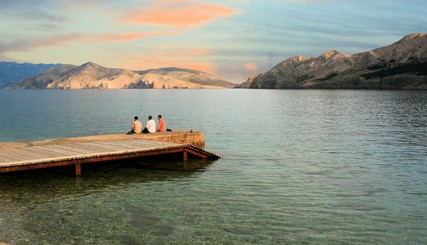 Walk the Glagolitic Trail of Baška
Peek inside the Church of St Mark, a locality that features many archaeological findings
Taste delicacies made from sardines at a fisherman's party
Become part of the traditional Picigin Fest Baška
Visit Baška Aquarium
Descend down to the calcite ornaments in Biserujka Cave
Visit the Church of St Lucy
Baška is located on the southeast of the island of Krk and is considered one of its most beautiful tourist towns. It is located about 60 km away from Rijeka, 25 km away from the city of Krk and 44 km away from Rijeka Airport which, in spite of its name, is actually located on the island of Krk. The origins of tourism in this region date back to the early 20th century and Baška has, since then, been attracting a lot of attention with its distinctive architecture based on the traditional and authentic elements of the local construction style, numerous cultural monuments, walking trails and the quality of its accommodation facilities.
Loading map, please stand by!
Ouch. There are no results for the selected category, period and/or location. Try another combination!