Rovinj
Rovinj will delight you with its devotion to tradition, magnificent architecture and landscapes that have remained unspoilt by urban development. Take a walk through its streets and learn why Rovinj is famous for being a city of artists, museums, galleries and culture. Rovinj is the perfect destination for your dream holiday for two!
Why visit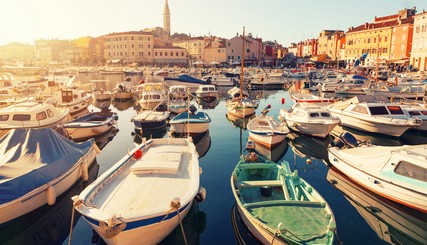 Visit the Franciscan monastery from the 18th century
Take some time off in the forest park Punta Corrente (Zlatni Rt)
Take a look inside the Fantazija quarry
Head for the Palud swamp, which features about 200 bird species
Snap a few photos beneath Balbi's Arch
Visit the Antonio Gandusio theatre
See the Church of St Euphemia, Rovinj's biggest cultural monument
Rovinj was mentioned for the first time in written sources in the 6th century, but it is believed that this region had been settled already during prehistoric times. Located about 20 km away from Vrsar and in the immediate vicinity of the Lim Channel, it is considered to radiate a special aura of tranquillity. This city of nostalgia is located just 37 km away from Pula and nearly 93 km from Rijeka. It is an alluring holiday destination that attracts great numbers of visitors every year and is considered to be one of the most romantic towns on the Istrian coast. It is a destination that is well liked by lovers of water activities, romantics and sailors all year round. Throughout the years, Rovinj's balmy Mediterranean climate allowed the town to develop into a centre of health tourism. If you visit Rovinj in summer, we guarantee that you will fall in love with relaxing on its beaches under the cool breeze of the maestral wind. Treat yourself to many unforgettable experiences in the unique setting of its pebble bays, and return home with many striking photographs for your family album. In winter, experience the true Mediterranean atmosphere while relaxing with a fine cup of tea and a good book in one of Rovinj's cosy restaurants or bars. Finally, discover the good spirit of Rovinj while enjoying the view of the sunset from the boardwalk!
Loading map, please stand by!
Ouch. There are no results for the selected category, period and/or location. Try another combination!