Jelsa
Charming Jelsa is the third biggest city on Hvar Island. It was formed around a seaport, in a secluded north bay surrounded by greenery. If you are travelling to Hvar Island with your family and are searching for a peaceful port in which life rocks slowly like a half-decked one-masted fishing boat on a dead calm sea, then Jelsa is the right choice. Here you will avoid crowds and loud fun and will be able to peacefully enjoy your Aperol Spritz on the waterfront or, even better, a wine tasting, for Jelsa has the very best wineries of the island.
WHY JESLA?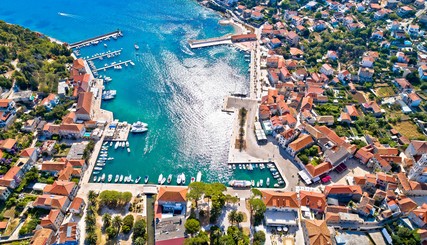 Immerse yourself in an intimate atmosphere of stone Dalmatian houses rich with history and Mediterranean charm
Take a walk from the centre of the town to one of the nearby beaches (Mina, Grebišća, Bočić, Tirkiz...) or sit on a bicycle and explore more remote bays which are worth the effort (Zenčišća, Zavala, Ivan Dolac…)
Visit the oldest library on Dalmatian islands, piazza with a freshwater spring, an interesting museum in the Dobrović House, as well as beautiful belvederes (Galešnik town), towers (Tor), and churches (Our Lady of Health church) scattered along the nearby hills
Feel the rush of adrenaline in the adventure park (Adventure Park Jelsa) with so many activities that you will feel like a child in a chocolate factory
Experience a touching religious procession 'Za križen' (Following the Cross) from the UNESCO Intangible Heritage list which has been taking place on the night of Holy Thursday for over 500 years (a unique spiritual, energetic and visual experience)
Insider's tip: If you happen to be in Jelsa between the 9th and 13th of August, prepare a picnic blanket, a bottle of bogdanuša wine, and some fine island mouthful, lie down on a beach away from the town lanterns and enjoy a spectacular meteor shower best seen in that very period.
Loading map, please stand by!
Ouch. There are no results for the selected category, period and/or location. Try another combination!