Labin & Rabac
Labin is a town located on the eastern coast of Istria, around 40 km from Pula and 63 km from Rijeka. It was founded at 320 metres above sea level, only 5 km from Rabac, a well-known tourist destination by the sea. Labin was inhabited since the Middle Ages. Thanks to its interesting past and charming old town, it attracts more and more visitors searching for true Istrian gems.
Why visit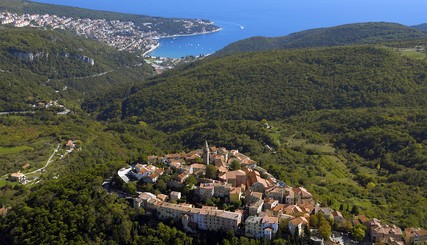 At the Town Museum discover the history of Labin and the replica of a mine dedicated to the Labin Republic, unique in this part of Europe.
Take a walk to the Fortica fortress and enjoy the best views of Rabac, the island of Cres, Labin and Učka, the highest Istrian mountain.
Take a peek into Saint Stephen's Church. It boasts a unique Baroque façade and is now used as a gallery.
Enjoy art in one of Labin's ateliers.
Take a photo near the town gate (Porta Sanfior ) from 1589.
Visit the church of the Nativity of the Blessed Virgin Mary and find the Venetian lion on its façade, placed here in 1604 as a symbol of Venice's rule in Labin.
The town is divided into the Old Town and Podlabin. The Old Town of Labin is a typical Istrian town built as an acropolis, while Podlabin was built during the so-called fascist era, when the nearby coalmines were run by the Italian authorities. The heart of Old Labin boasts a rich architectural heritage. It is here that you will find Renaissance and Baroque patrician palaces (including the Battiala-Lazzarini palace, now home to the Town Museum), in which numerous renowned intellectuals and artists were born. Today Old Labin is known as a town of artists and you will discover traces of history in all of its streets and squares. In the spring, active holiday lovers will be thrilled with cycling and walking routes, while during the summer you may test your physical fitness in the diving school in Rabac. Choose Rabac and Labin as your favourite Istrian holiday destinations and enjoy your stay here at any time of year. Whether you come here with friends or children, you will discover the charms of Labin's unique nature and take your deserved time to relax and unwind
Loading map, please stand by!
Ouch. There are no results for the selected category, period and/or location. Try another combination!