Island of Hvar
Hvar Island belongs to the group of Middle Dalmatian islands and is excellently connected by ferry routes to the city of Split, the centre of the county (approximately 1 hour of sailing). Thanks to the 250 km long coastline dotted with beautiful beaches and nightclubs open until early morning hours, magnificent cultural monuments and fragrant lavender fields warmed by 2,726 hours of sunshine per year, Hvar Island has lit its way to many a heart, just like its namesake, the lighthouse (pharos in Greek). It is no surprise, then, that it is regularly included in the list of the most beautiful European islands that, in equal measure, attracts both jetsetters and admirers of authentic Mediterranean spirit.
Loading map, please stand by!
Ouch. There are no results for the selected category, period and/or location. Try another combination!
WHY HVAR ISLAND?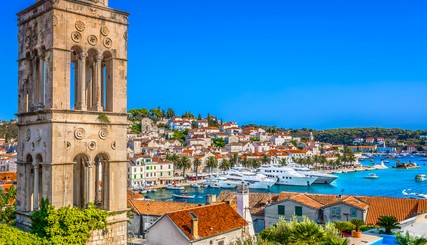 Enjoy the rich nightlife, sun, wine and wondrous beaches
Experience fascinating UNESCO World Heritage Sites
Get acquainted with the rich history and impressive culture: Fortica fortress, Arsenal, the Hvar theatre, St. Stjepan Square, the oldest library on the islands, klapa song, and many other beautiful things
Immerse yourself in hedonistic lifestyle: quaint restaurants, taverns, wineries (there are some under the sea too!), and oileries
Be like James Bond for he knows where good fun is! Hvar Island has been visited by no less than three 007 agents: Sean Connery, Pierce Brosnan and Daniel Craig
On no more than 300 km2 Hvar soil, you can see as many as six attractions from the UNESCO tangible and intangible Heritage list: the miraculous agave lace, masterful dry stone walls, Stari Grad Plain and the historical centre of Stari Grad, religious procession Za križen (Following the Cross), klapa singing, and Mediterranean cuisine. If, apart from cultural attractions, you want to experience outdoor activities as well, we suggest you try off-road safari, kayaking through breath-taking bays, rock climbing, or scuba diving through the Paklinski Islands archipelago, which is a protected natural property.
TOP 7 ENCHANTING ATTRACTIONS ON HVAR ISLAND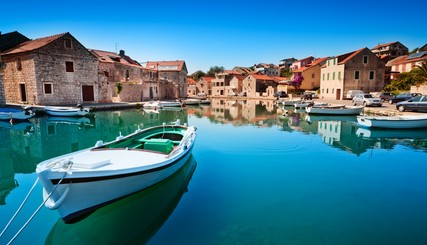 Ascent to the stone šjora (lady) Fortica overlooking the city of Hvar
Alpine trails above Sveta Nedjelja and a spectacular via ferata
The oldest theatre in Europe and Petar Hektorović's Tvrdalj with a fishpond and a dovecot in Stari Grad
Tasting of indigenous white wine variety called bogdanuša (Hvar Island has a 2400-year-old wine tradition!) and lavender ice cream
Cycling through the Stari Grad Plain whose terraced pitches were established by no other than the Ancient Greeks and preserved until today (UNESCO attraction)
Nightlife in mega-popular clubs such as Carpe Diem, Veneranda, Hula Hula, or (if you are one of those calmer types) a somewhat relaxed atmosphere in the Falko beach bar
Excursion to the nearby Paklinski Islands that will blow your mind with their array of turquoise bays, gourmet retreats, beach bars, nudist beaches, and raw, wild nature
Insider's tip: If you want to experience For (what the locals call the island) in the retro style, rent a legendary VW Beetle Convertible, put on a straw hat and explore the most secret corners as a local!
WHEN IS THE BEST TIME TO VISIT THE HVAR ISLAND?
Pleasant summers and mild winters
Average air temperature from June to September: above 20°C
Average yearly temperature: 16.5°C
Swimming season: from May to October (for the bold ones even longer)
Summers are cooled down by gentle NW maestral wind
Hvar Island is beautiful all year round and the time of the visit depends on what aspect of vacation you are interested in. Nightlife enthusiasts will enjoy the summer months when sea reefs are red-hot just like the Hvar Island's club scene, while for travellers who prefer a slower pace, smaller crowds, and lower prices, spring or autumn might be a better choice. Due to its mild climate, winter is also good for vacation, and people who enjoy solitude, silence, and contemplation will surely appreciate it.