Poreč
If you're looking for a destination for an active holiday or out-of-the-ordinary experiences, visiting Poreč is the right choice, as its population has nearly a century's worth of experience in hospitality and can satisfy even the most demanding of guests. Visit one of the restaurants in Poreč and be delighted by the offer of dishes, innovativeness, creativity and tradition, or take a break under the shade of a pine tree.
Why visit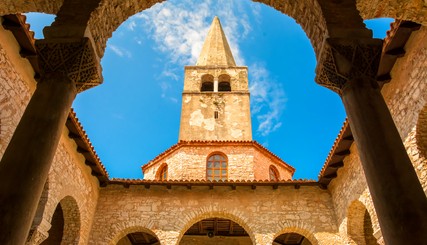 Visit the Euphrasian Basilica from UNESCO's list of world heritage
Stop by Decumanus street to visit Palace Zucatto
Visit Baredine Cave, Marko's Cave and Pinzin's Cave
Take a peek inside the Baroque church St Mary of the Angels from the 18th century
Feel the spirit of history in Neptune's Temple
View illusionist paintings in the Church of St Francis
Experience a summer afternoon on the banks of the Lim Channel
Poreč is a port and tourist centre on the west coast of Istria and is located near Novigrad, Funtana and Vrsar. Since ancient times, the city has been the centre of the wider area between the valley of the Mirna River and the Lim Channel which means that, just like in the rest of Istria, you will recognise the influence of historical peoples such as the Liburnians, the Histrians, the Greeks and the Celts. During the period of Roman rule – or, more precisely, during the 2nd century BC – a Roman castrum was erected, and the historical core of the city stands here today. The value of this city was recognised during the reign of Emperor Augustus (1st century), and the castrum was declared a town that was part of the Roman colony Colonia Iulia Parentium. As it was then, so it is now – the Mediterranean climate and its mild winters and warm summers attract visitors to Poreč all year round. The season of beach fun, swimming and diving lasts from May to October, while the off-season period is perfect for weekend trips for the entire family.When (or, better, if) you ever get bored of relaxing and sipping cocktails by the beach, spend some quality time in one of the wellness centres, or visit the olive groves of a family farm. Surprise your senses with Istrian delicacies.
Loading map, please stand by!
Ouch. There are no results for the selected category, period and/or location. Try another combination!