Korčula Island
Korčula is called a beauty carved in stone, and if you decide to give in to its seductive powers, it will leave you breathless. During the summer, you can set out on a one-day trip from Makarska to Korčula on a ship. As soon as you see the stone facades of Korčula city with its recognisable stairs, towers and walls, you'll congratulate yourselves on making a clever choice. And when you get deeper into the streets full of aromas of Mediterranean cuisine, original handicrafts and colourful clothes fluttering in the breeze, you'll feel the true spirit of the Mediterranean. Simply irresistible!
WHY KORČULA?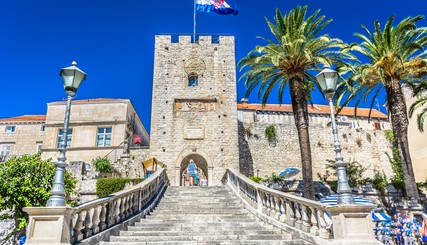 Plan your trip on a Thursday, the day when Moreška is danced in Korčula, an impressive sword dance present on the island since the 17th century
Find out how the people of Korčula lived in the past and visit the Town Museum in Gabrielis Palace
Climb the clock tower of the Cathedral of St. Mark and try to notice the fish bone shape of the town layout, which protected the central street from frequent gusts of wind (clever, isn't it?)
Take a swim in one of beautiful Korčula's beaches such as Pupnatska Luka or Vela Pržina in Lumbarda
Satisfy your sweet tooth with cukarini, klašuni, hrostule or rozata and you should definitely taste the local white wines Pošip, Rukatac or Grk
Engage your hosts in conversation since they are well-known for their hospitality and warmth
Korčula keeps to valuable traditions that can today be found only on this island, such as the Moreška sword dance or chain sword dances Kumpanija and Moštri. Additionally, since the distant year of 1301, Korčula has been caring for the tradition of confraternity, the legacy of which is kept in the All Saints Church. Confraternities have, as early as the 14th century, much earlier than elsewhere in the world, insisted on the equality of all citizens. They were founded as religious associations in which, both commoners and nobles were, first and foremost, brothers without any class divisions.
Loading map, please stand by!
Ouch. There are no results for the selected category, period and/or location. Try another combination!