Konavle
The municipality of Konavle is located on the far south of Croatia. It is part of the Dubrovnik – Neretva County, the capital of which is the tourist town of Cavtat that is located nearby. This municipality is located just 15 km from the world-famous destination of Dubrovnik and borders with Bosnia and Herzegovina and Montenegro. Its cultivation of tradition, lifestyle and agriculture makes Konavle an exceptionally appealing tourist destination.
Why visit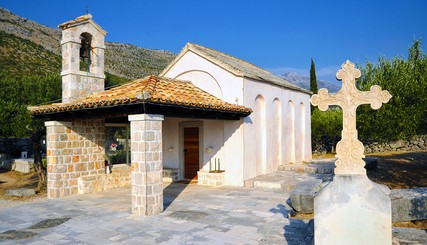 Cycle from the sea through the villages of Donja Banda to Čilipi
Visit the Sokol fort from the era of the Republic of Ragusa
Take a peek inside the Franciscan monastery and Church of St Blaise in Pridvorje
Take a stroll through the local villages with a view of Sniježnica Mountain
Travel the wine trails and taste autochthonous wine varieties
View the mediaeval tombstone in the village of Brotnice
Study the ethnographic material in the House of Heritage in Konavle
The municipality of Konavle was settled already during the paleolithic and neolithic, and its villages have preserved the traditional stone architecture up to today. In the 5th and 4th centuries BC, this region was settled by Illyrian tribes while, in the 2nd century BC, the Romans began to develop an important trade and naval centre on the site of the Greek colony of Epidaurus (Cavtat), at the intersection of several important routes. Already in its early history, agriculture and tourism became important elements in the development of the entire Konavle region. Long-standing traditions have managed to remain preserved up to this very day.
Loading map, please stand by!
Ouch. There are no results for the selected category, period and/or location. Try another combination!